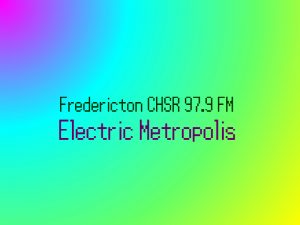 Tonight on this longest night of the year, let us reflect on the shimmering sound that pierces any storm and lights up even the darkest night. Welcome to The Electric Metropolis, I am your Musical Tour Guide AD Springer hereby authorized by The Electric Metropolis Tourism Authority to show you around this city I love so much to hear the great music made by the great artists that make it possible. From the First Stop to the Last, I know you can have a good time, no matter where or when you are or ever will be!
Tour Itinerary:
First Stop:
"The One You Should Know" by UndreamedPanic & PegasYs off the album Enigma
Club Electric:
"Get A Load of Me" by Which Witch is Which off the album Which Witch is Which
"Take Them On (feat. Nikki-Chi)" by Nokae & Ben Briggs off the album Still Turning
"Rapture" by Villainest off the album A Vision of Light
Chiptune District:
"Milky Way Train" by CarboHydroM off the album Bundle of WIN
"Dispel the Clouds" by HOFFY off the album Boundarymen Vol. I
"Everything will be okay in the end" by don'tblinkoryou'lldie off the album Battle Jazz Classics II
Future Hall:
"The Place We Shared" by Chibby off the album Our Time
"[vivid green]" by Snail's House off the album L'été
"glass shards & gold" by bank pain off the rewritable EP
VGM District:
"Not Nate…" by virt off the Retro City Rampage Soundtrack
"Lyn & Torden" by Doktor Plekter off the Back To Reality OST (Feat. Doktor Plekter)
"The Dark Pages" by Random-storykeeper off the Spellbound OST
Final Stop:
"Twilight Run" by Visualeyes off the Playtime EP
"With You" by Hellokikimusic off the album Made In Tokyo
Got any suggestions for future tours?

Podcast: Play in new window | Download
Subscribe: Google Podcasts | RSS | More