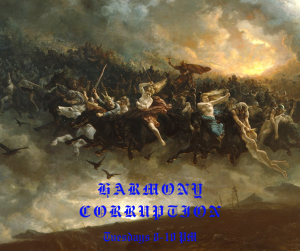 Hi Everyone! Welcome back to Harmony Corruption. This week focused more on introducing people to metal! If you are new to metal, or know someone you'd like to introduce metal to, this is the episode for you. Here's the playlist!
Alice Cooper-Devil's Food
Angel Witch-Angel Witch
Black Sabbath-A National Acrobat
Black Sabbath-Children of the Sea
Candlemass-Samaritan
Danzig-777
Dio-Night People
Anthrax-Medusa
Judas Priest-Desert Plains
Judas Priest-Take these Chains
Riot-Sign of the Crimson Storm
Voivod-Astronomy Domine
Voivod-The Nile Song
Razor-Tear me to Pieces
Razor-Take this Torch
Exciter-Swords of Darkness
Exciter-Saxons of the FIre
Anvil-Jackhammer
Alice in Chains-Junkhead
Tiamat-Whatever That Hurts
Pantera-Revolution is my Name
Thanks for listening!

Podcast: Play in new window | Download
Subscribe: Google Podcasts | RSS | More