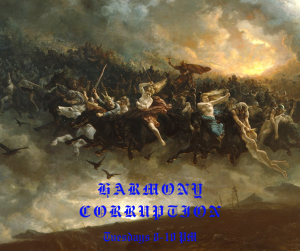 Hi Everyone! Welcome back to Harmony Corruption. This week was my first week back from vacation, so this show was back to being live rather than prerecorded. I played bands from Scotland (a first for the show), France, the UK, Canada, and the US this week. This show had a focus on newer death metal bands, but had a few classics and other assorted goodies from other subgenres as well. Also talked about Armored Core VI, Dark Souls and may have accidentally summoned an eldritch god while trying to pronounce Cthe'ilist!
Here's the playlist for the week!
Gatecreeper-Flamethrower
Black Sabbath-Dirty Women
Black Sabbath-I
Mortiferum-Incubus of Bloodstained Visions
Coffin Mulch-Black Liquefaction
Gojira-Backbone
Gojira-Where Dragons Dwell
Gorguts-Testimonial Ruins
Autopsy-In the Grip of Winter
Horrendous-Chrysopoeia (The Archaeology of Dawn)
Suffocation-Pray for Forgiveness
Chthe'ilist-Scriptures from the Typhlodians
Ripping Corpse-Rift of Hate
Ice War-Battle Zone
Ice War-Reverence of Gold
Razor-Miami
Razor-American Luck
Tomb Mold-Abysswalker
Bolt Thrower-Icon
Riot-Bloodstreets
Thanks for listening!

Podcast: Play in new window | Download
Subscribe: Google Podcasts | RSS | More