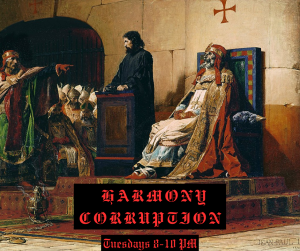 Hi Everyone!
Welcome back to Harmony Corruption! This week featured part II of the Tomb Mold interview as well as lots of spooky tunes for Halloween. Here's the playlist for the week!
Tomb Mold-Angelic Fabrications
Tomb Mold-Servants of Possibility
Tomb Mold-The Enduring Spirit
Demilich-When the Sun Drank the Weight of Water
Demigod-Towards the Shrouded Infinity
Demigod-Perpetual Ascent
Outer Heaven-Fragmented Suspension
Razor-Taste the Floor
Autopsy-Throatsaw
Tribulation-Holy Libations
Woods of Ypres-I Was Buried in Mount Pleasant Cemetery
Witchfinder General-Burning A Sinner
Venom-Raise the Dead
Danzig-Devil's Plaything
Thanks for listening!

Podcast: Play in new window | Download
Subscribe: Google Podcasts | RSS | More