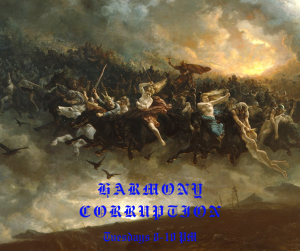 Hi Everyone!
Welcome back to Harmony Corruption! This was episode 5 of the show, and this week had quite the range. Lots of classics, some grind, a bit of hardcore and a couple of tracks off of new releases! We heard bands from Italy, Switzerland, the UK, US, Canada, Norway and more. Make sure to tune in for Harmony Corruption every Tuesday from 8-10PM.
Here's the playlist for the week:
Dio-Straight Through the Heart
Iron Maiden-Where Eagles Dare
Annihilator-Alison Hell
Black Sabbath-A National Acrobat
Metal Church-Fake Healer
Voivod-Brain Scan
Razor-Iron Hammer
Celtic Frost-Jewel Throne
Bulldozer-Cut Throat
Bad Brains-Big Takeover
Enforced-Hanged By My Hand
Brujeria-Revolucion
Cryptopsy-Back to the Worms
Gorguts-Nostalgia
Cattle Decapitation-We Eat Our Young
Necrojinn-We Are the Road Crew (Motorhead Cover)
Brutal Truth-Perpetual Conversion
Darkthrone-To Walk the Infernal Fields
Rammer-Rust and Paranoia
In Battle There is No Law
Thanks for listening!

Podcast: Play in new window | Download
Subscribe: Google Podcasts | RSS | More