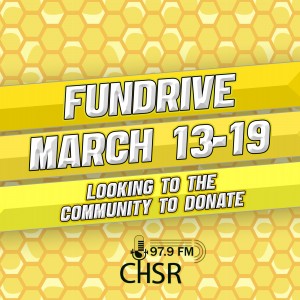 CHSR's annual Fundrive is here! This year we're trying something a little different, we're creating a Patreon campaign to help raise some much needed funds for Fredericton's only campus based community radio station.
CHSR will also be present at the Boyce Farmers' Market March 5th to promote community radio, plus we have a lot of other fundraising activities that you can get involved in.
March 12, 2016 is the Fundrive Kickoff Show at Charlotte Street Arts Center. Show starts at 7pm, cover is $10 at the door, featuring Before the War, Richie Young Band, and Montgomery Street Band.
March 13, 2016 we're hosting a Tabletop Games Day in the UNB SUB's Blue Lounge, located at 21 Pacey Drive. It's free to attend, but donations will gladly be accepted. Fun for the whole family! Plus there will be homemade baked goods available to snack on.
March 13th and March 19th we're having a good ol' fashioned Bottle Drive between 12pm and 2pm. Drop your refundables off at the entrance of the UNB SUB, 21 Pacey Drive! We'll be there to greet you with a smile and a high-five. Have bottles but can't drop them off? Tweet us @CHSR979 or send us a message on Facebook and we'll make sure to get them from you.
March 19, 2016 is our second annual Radio-A-Thon, broadcasting all day from 8am to midnight! Listen in over the airwaves (97.9FM) or stream us online for a full day of fun. No Nickelback pranks, we promise. We'll be taking donations all day, so feel free to pop by CHSR and see what we're about!
Thanks for supporting CHSR 97.9FM for over 55 years.