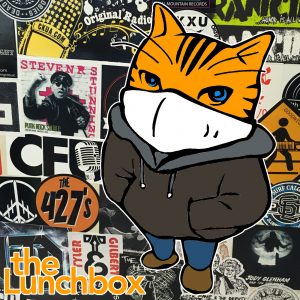 On the show:
Redheads, rejoice! It's Love Your Red Hair Day.
"Remember, remember, the 5th of November." Infamous words about a turbulent time, sometimes referred to as Gunpowder Day or Guy Fawkes Day.
"If you fail to plan, you plan to fail." Or, as one of my former managers put it: "You have to have a plan; only then can you deviate from it!" It's not easy to wrangle cats, to hats off for Project Management Day.
Feature presentation:
The Silver Wave Film Festival starts tonight with a gala presentation of Bone Cage. Back in 2018, I spoke with Len Falkenstein, Alex Pannier and Devin Rockwell who were performing in Theatre UNB's stage version of the original play.
And in 2017, I spoke with one of 2020's Faces of Mental Illness (as decided by Canadian Alliance on Mental Illness and Mental Health (CAMIMH)), author Keith Lyons about his book Oh No, It's Thursday!
Lainie B brought another Positive Song For Pandemics, this time bringing out a classic: Elvis Costello's (What's So Funny 'Bout) Peace, Love & Understanding.
Events:
As mentioned before the Silver Wave Film Festival starts tonight, and many of the streamed movies are going to be free for folks from the Maritimes.
The TNB Fall Festival of New Plays continues this week with two performances. First up, join them tonight at 7:30pm for a reading of new work by Jena McLean called An Ocean of Evergreens. On Sunday afternoon at 2pm, tune in for Wood Buffalo by "the grand poobah of theatre" Len Falkenstein.
Maggie's Farm Revival are playing this evening at 5:30pm at Dolan's Pub.
Visit The Charlotte Street Arts Centre tonight at 7:30pm for Playing With Fire, part of the Symphony New Brunswick Virtuoso Series. Tickets are available at the door for $26 for adults, $10 for students or free for children. For more information, visit: symphonynb.com, email symphony [at] nbnet [dot] nb [dot] ca, or call 634-8379.
No news today due to technical problems.

Podcast: Play in new window | Download
Subscribe: Google Podcasts | RSS