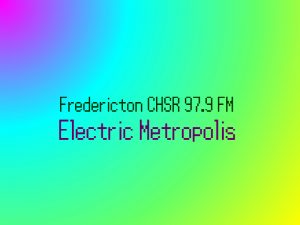 This is beginning of Year Two of The Electric Metropolis, I am AD Springer: your musical tour guide to all things Future Funk, Chiptune, Synthpop and other reach out and grab you music in the electronica sphere and beyond! A little over a year ago, I gave my first tour of this wonderful city of shiny music, neon, and the brilliant lights shining from the artists that make this city such a beauty to behold and withstand. The Electric Metropolis Tourism Authority has had the privilege of welcoming guests from around the world, giving a home to music both razor-sharp new and polished with age classic. In the last year we have had the pleasure to speak with: coda, Jeff Ball, James Landino, Ben Briggs, Dana Jean Phoenix, Louie Aronowitz, Rozen, The Travelers VGM, Cody Carpenter, Mark Day, Dale North, Kommisar, Lemkuuja, Norihiko Hibino, Jayson Napolitano, The Hit Points, & Aloe Island Posse. To them all, a million thanks for visiting The Electric Metropolis and being instrumental in making such music that brings this city of sound alive.
Thanks this year goes out to Matt Nightengale of Run For Your Life for encouraging me to come onto the radio waves and share all this wonderful music with you! Thanks also goes out to Jayson Napolitano and Scarlet Moon Productions for arranging many of the interviews and music for the VGM district! Finally, thank you my beautiful tourists for coming to visit all year and listening to what the city has to offer.
Great Music Deserves to Be Heard!
Tour Itinerary:
First Stop:
"Your Love is a Drug ft. Adriana Figueroa (insaneintherain Arrange) by Garoad off the VA-11 HALL-A EX – Bonus Tracks Collection
Future Funk District:
"Ouais Ouais (ft. SlyLeaf)" by LemKuuja off the album CHEESECAKE+
"Android Shelter" by Desired off the album PLASTIC WHATEVER
"Sunset" by Aloe Island Posse off the album Aloe Island Adventures
Chiptune District:
"The_Sugar_Rush" by Cyanide Dansen off the album Zenzoo Pop
"Interstellar Good Times" by PROTODOME off the album CHIPFUNK
"Electric Supernova" by Rock Candy (a DBOYD x Kommisar Project) off the album Rock Candy
Club Electric:
"Atmosphere (feat. Daniela Andrade)" by Harrison off the album Apricity
"PixelDust" by Dana Jean Phoenix off the album Pixel Dust
"Eclipse" by To The Trees off the album To The Trees
VGM District:
"We All Become" by Darren Korb off the Transistor: Original Soundtrack
"Bipolar Nightmare" by Ferdk off the album Glory to Metal (A Symphonic Metal Tribute to NieR: Automata)
"Quest for Glory "Late Snows of Winter" OC ReMix" by jmr from the website ocremix.org
Final Stop:
"In a Quiet Place" by Harmony Steel off the album Dreamer
Got any suggestions for future tours?

Podcast: Play in new window | Download
Subscribe: Android | Google Podcasts | RSS | More