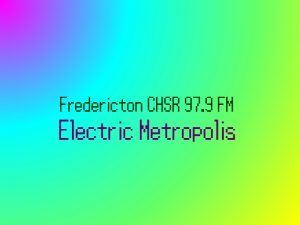 Tour Itinerary:
First Stop:
"Vardoger" by Arturo Host & Ponderous Loop off the album Recollections
Club Electric:
"The Heaviness" by PAPAL VISIT off the double single The Heaviness/Cut Me Out
"Alley Lullaby" by Mirrorvoid off the album Neon Tattoo
"Slow Motion Gunfights" by Villainest off the album A Vision of Light
Chiptune District:
"Escape Velocity" by Themnotyou off the album Spacetunes = WIN
"Doppelganer Masquerade" by Rock Candy off the album Rock Candy
"Interstellar Good Times" by PROTODOME off the album Chipfunk
Future Hall:
"Things That You Do" by Lemkuuja off the album Cheesecake+
"Rainbow Love feat. Nyokee" by RoBTKA off the album Selfie USA
"Yesterday's Jam"  by Strawberry Station off the album Yesterday's Jam
Final Stop:
"Kotoba no Aya ft. Ohmori Hiroto" by Ishikawa Aito & K.S.K. off the Radio Pleasure – EP
*The Electric Metropolis Tourism Authority has been notified of a typographical error in the Final Stop. This typo has been corrected.
Got any suggestions for future tours?

Podcast: Play in new window | Download
Subscribe: Google Podcasts | RSS