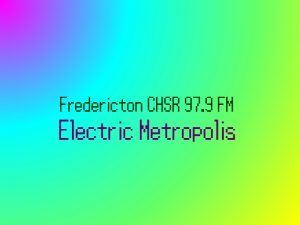 Tour Itinerary:
First Stop:
"City Lights" by Crystal Cola off the album Oneironaut

Club Electric:
"Small Foreign Faction" by Haley Blais off the album Let Yourself Go
"Prom Night" by Villainest off the album A Vision of Light
"Right Here" by M.M. CRONE off the album M.M. CRONE 2.1
Chiptune District:
"Here and There" by MC Snax off the album Healing Sounds of the Benevolent Realm Vol. 3
"Seven Teens" by Brick BRKer off the album The Land Behind
"The Stone King" by cornchyp off the album Kaiju Lullaby
Future Hall:
"Shine Again" by Strawberry Station off the album Yesterday's Jam
"Dreamcast ft. Emily Millis" by RoBKTA off the album Selfie USA
"Liftoff (ft. Matthew Clanton)" by Discoholic
VGM District:
"Winds of Tamira (Overworld Theme)" by Dead Genre Studios off the album Of Songs And Men (The Daybreak Empire Original Soundtrack)
"Sparkling Spire" by Fredrik Hathen off the Bloody Trapland 2 OST
"My Silly Days" by Daisuke Achiwa, Ken Nakagawa, Kanae Aoki, Marie, Dani off the album Mana Khemia 2: Fall of Alchemy – Alchemic Symphony
Final Stop:
"Distant Hearts" by Random-storykeeper
**Special Thanks to the website https://vgmdb.net/ for posting information to properly credit the artists that worked on "My Silly Days"
Got any suggestions for future tours?

Podcast: Play in new window | Download
Subscribe: Google Podcasts | RSS