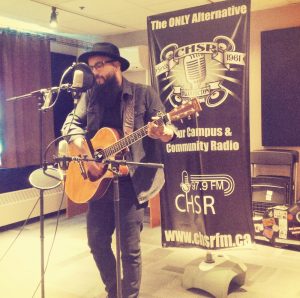 May 31, 2019 – After a long drive and late night of performing, Toronto's Black Suit Devil stopped by CHSR for a chat and live performance of his upcoming single, Firefly. In town for the 4th edition of the Living Roots Festival, Black Suit Devil (Andy Du Rego) and Erin sit down to chat about his musical sound, the East Coast charm, and some details on his upcoming record.
We're treated to a live performance of his next single, Firefly, and you can check out his current single here.
Listen in below to the conversation and performance!
Black Suit Devil WEBSITE // FB // IG // MUSIC

Podcast: Play in new window | Download
Subscribe: Android | Google Podcasts | RSS