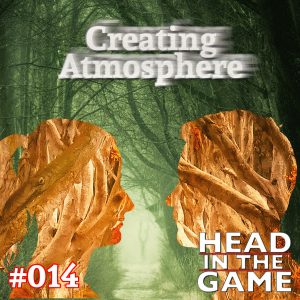 Compare:
"You walk down a 10′-wide hallway made of stone. There is a wooden door on the North wall, and another on the East wall."
"[Dims the lights.] The dim corridor would stand three of you, shoulder-to-shoulder. Your footsteps echo off charred and pitted stone walls. The sound of your footsteps echoes unnervingly in this tight space. Ahead, you can see a well-carved solid wood door, rusted iron hinges barely holding it in place. Along one wall, another door is recessed slightly into the wall, obviously much newer than the other, made of fresh-looking planks of wood. [Lights cedar incense.]"
When we play roleplaying games, we are building a world that largely lives in your head. What can we do to our environment and to our language to help construct that world in a more visceral way? We talk about building atmosphere at the table.
Hosts: Mark, Chris, Anita, Julian

Podcast: Play in new window | Download
Subscribe: Android | Google Podcasts | RSS | More