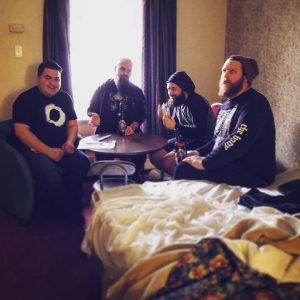 BOOM! Episode 5!
This week I talked with the dudes in Abysseral Throne! We chatted about shitty fast food jobs, Pokemon Go and why impaired driving laws exist!
Also, we play through their ECMA nominated album "Storming The Black Gate".
Also included, a brief interview with ECMA loud winners Lionsault!
Next week! Casual co-host Sean Carroll returns to talk about all the latest metal news and I talk further about my time at the ECMAs in Saint John, NB! Also included will be recent interviews I did with comedian Wally Warwick and Jake Reimer from Voltang out of Hamilton, Ontario…..as well as Dan Briggs, bass player for prog metal titans Between The Buried and Me!
Tune in next Monday from 10-11:30pm on CHSR 97.9 FM!

Podcast: Play in new window | Download
Subscribe: Android | Google Podcasts | RSS | More