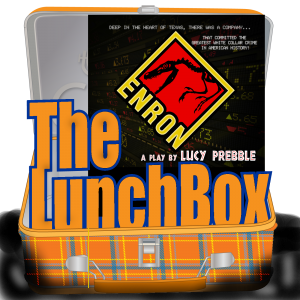 Do you remember the name "Enron"?
To a lot of people, I think the details may be fuzzy, but the following words might come to mind:
Oil.
Business.
Scandal.
Dinosaurs.
Dinosaurs?
Ok, so the last one isn't familiar to you yet, but it will be! Two of the Theatre UNB actors, Alex & Dylan, dropped by today to talk about their next big project: Enron, a play by Lucy Prebble. We talk a bit about the last production I saw them in, Our Country's Good, and compare and contrast their experiences. They let slip that there may just be some dinosaurs in this play, and that it is a tragedy of comic proportions.
BONUS: they also perform a bit of a scene from the play, between the financier and the CEO, their two characters in the play.
Enron plays at Memorial Hall on UNB Fredericton campus, opening on Wednesday night at 8:00pm and running through and including Saturday night.
And don't forget: if you are going to the play, you're going to Memorial Hall anyway, so take along your e-waste to help recycling and help spread the message!
Music today:
The Mohrs remind me of Spring (a little) with their song Youth from the Kings of Nowhere album.
And Emilie Rae is probably not singing about Enron, but there may be Something Wrong anyway. Taken from her Frigid Fire album.

Podcast: Play in new window | Download
Subscribe: Android | Google Podcasts | RSS | More