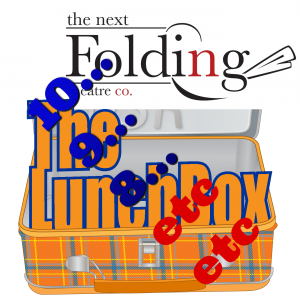 Traditional theatre follows a process (I imagine) something like this:
Playwright writes a play.
Director gets play, casts play.
Actors perform play.
But what if you took that process and compressed it to:
People get together, write the script, act in the script and direct each other.
That the process behind the Creative Collaboration series from The Next Folding Theatre Company. They take a group of people, throw them together, and tell them to create.
And they do!
The latest work is called "10, 9, 8, etc, etc". I was joined by two of the writer/actor/directors of the six-person team, Ian Goff (who calls himself mostly an actor) and Dylan Sealy (who calls himself more of a prose writer). We talked about the process of exploration and creation that made this show as well as a bit about the general idea of the show (it's hard to describe).
"10, 9, 8, etc., etc." runs from November 22nd through 24th at The Wilser's Room in the Capital Complex in Fredericton. The show starts at 7pm, and you are encouraged to support the show additionally by supporting their sponsor, Picaroons.

Podcast: Play in new window | Download
Subscribe: Google Podcasts | RSS