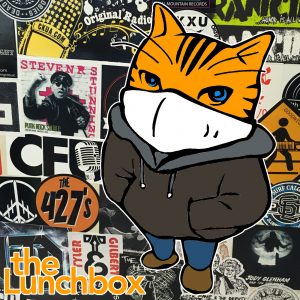 On today's show:
Today is Guacamole Day, so it was rather convenient that I had avacados, jalepenos, tomatoes, garlic, cilantro and a red onion on hand. Like I planned it!
Are you ready to add more language to your diet? We continue talking Word Feast with Jo-Anne Elder, this time about the Spotlight on Translation Event coming up on September 25.
Bondo has great taste in music, and on a particular Monday in 2018 she brought with her Undertow from Rae Spoon's album bodiesofwater.
The Atlantic International Film Festival starts tomorrow night, and features 114 films in 53 screenings, with exclusive gala screenings each night. Watch it all online from September 17 through 24!
Remember, it may not be the full Harvest Jazz & Blues Festival this week — but it's plenty for everyone who's here!

Pallmer, Blue Lobelia & Kurtis Eugene will take the stage at The Cap Patio on Wednesday night at 7pm. See the Facebook event for more details.
Josh Bravener is playing on Thursday at 5pm at The Delta Fredericton. Free cover!
The Delta Fredericton will also feature Anthony Gray on Friday at 9pm for another show. Again: free cover!
Maggie's Farm Revival is celebrating Harvest at Dolan's Pub on Thursday night at 7pm. Due to social distancing, reservations of a table (for 4 or more) are necessary; email Rick Hutchins (hutchinsr [at] outlook [dot] com) to reserve.
Dolan's Pub welcomes Certified for Friday and Saturday nights at 9pm.
Gin & Jazz at The Southside Shake will be on both Friday and Saturday nights at 8pm with special guests both nights.
The Royal Canadian Legion (365 Smythe St) is bringing back live music starting this week with Rabbit Town Ramblers & Friends on Friday at 6pm.
The Tribute Bar & Lounge welcomes Theresa Malenfant & Scott Medford on Friday at 7pm. Tickets are $20 and must be purchased in groups of 4 or 6. Limited seating is available. See the Facebook event for more details.
The Montgomery Street Band and Womb To Tomb are on the stage at The Charlotte Street Arts Centre on Friday night at 7pm. See the Facebook event for more details.
While there are going to be some actual performances, you can also see great past performances streaming online via Harvest's Facebook and YouTube pages on Saturday. See the website for more details.
You can celebrate Harvest and help people on Saturday at noon by joining a fundraiser in support of Nutriendo el Future at the Feeding The Future (Venezuela) in The Tannery. There is no ticket price, but tables must be reserved in advance on The Cap Patio and the extended Klub Khrome Patio. (Reserve your tickets in advance.) The Dolan's Patio will operate on a first come, first served basis.
And while you can probably wander by to enjoy it, official tickets have sold out for Sunday afternoon's Harvest 29.5 show in the Tannery. The show will feature Dub Antennae, The Big Band of Fun, McKinley Morrison & Williams, Hum & Hollow and Catherine Kennedy (with Josh McKinley). See the Facebook event for more details

And Symphony New Brunswick has announced a series of concert for this year's season, spread over three months. The first local concert is coming on October 3 at 7:30pm at The Playhouse, so get your tickets and support your local theatre!
Each Sunday until October 25, you can arrange to visit the UNB Art Centre to see a pair of exhibits under the Attending the Apocalypse. Sign up online for your 20-minute slot to visit.
And while it's virtual, you can still sign up to roleplay at Fredericton's own gaming convention, Enbicon (coming up on September 25-27).
News update:
Passengers on a recent Air Canada flight to Moncton are being told about a possible exposure to COVID-19.
The defence team for Matthew Vincent Raymond say their client was not criminally responsible for his crimes two years ago.
A young adult from Maisonnette will undergo a 30-day psychiatric assessment after stabbing a 51-year-old man on the Acadian Peninsula.
The City of Fredericton is taking the next step for more accessible services on local transit.
A new study shows more female students attending post-secondary institutions were sexually assaulted over a year.
Chiefs from the Wolastoquey First Nation are urging Premier Blaine Higgs to sit down with Indigenous peoples for a dialogue of respect.
All students from Priestman Street Elementary are back in the classroom today.
And the United States is standing down on its tariff dispute and lifting a 10 per cent levy on aluminum imports.

Podcast: Play in new window | Download
Subscribe: Android | Google Podcasts | RSS