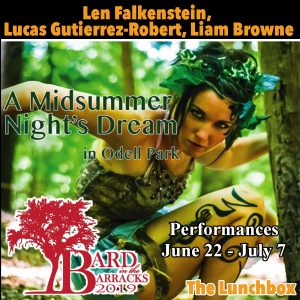 Imagine if Shakespeare lived today; how would he change his own plays? Perhaps you don't need to just imagine..
My guests today are involved in the Bard In The Barracks' production of Shakespeare's A Midsummer Night's Dream, the outdoor staging happening within Odell Park. Joining me are Len Falkenstein (director, Grand Poobah of Fredericton Theatre), Liam Browne (actor, Flute) and Lucas Gutierrez-Robert (actor, Bottom). They join me to enthusiastically talk about this classic play, updated into a very modern look and staged in the great outdoors.
A Midsummer Night's Dream opens with a preview performance on June 22 at 7:30pm in Odell Park, and then has regular performances on June 23, 26, 28, July 3 and 5th, and matinee (2pm) performances on June 30 and July 7.

Podcast: Play in new window | Download
Subscribe: Android | Google Podcasts | RSS