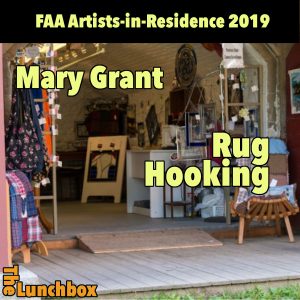 Art has the potential to encapsulate entire lifetimes in a single image, drawn from single moments imagined and expanded, composed out of strips of deconstructed cloth.
During the summer, the Fredericton Arts Alliance brings a pair of artists together in the Barracks to practice their art for all to see. These artists come from a wide variety of disciplines, from painting and sculpture to basket-weaving and writing. As each pair of artists comes in, we'll be talking to them on the Lunchbox.
My guest today is Mary Grant, a fibre artist who creates intricate designs using rug hooking. She's working on a project to represent an early Fredericton family's slice of life, all represented one strand of cloth at a time.

Podcast: Play in new window | Download
Subscribe: Android | Google Podcasts | RSS