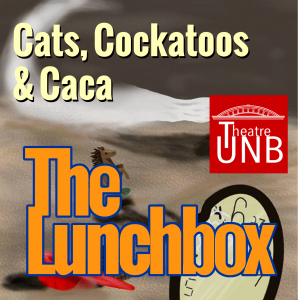 It is often when we suspend the rules of reality for a while that we discover the truth of the universe; this is the very definition of theatre, after all..
My guests today are Len Falkenstein, Sarah DuBois and Veronica Howe. Len is the Director of Drama at UNB and the director of an upcoming Theatre UNB production of a pair of absurdist plays by Eugene Ionesco, whereas Sarah and Veronica each play prominent roles in one of these plays. They join me to talk about discovering the necessary places an actor must go to embody surprisingly physical and intentionally absurd theatre, and their experiences bringing these plays to life with straight face when everyone else is laughing.
Cats, Cockatoos and Caca features the plays "Jack, or the Submission" and "The Bald Soprano" by Eugene Ionesco, and opens on Thursday, November 30 at 7:30pm at Memorial Hall, 9 Bailey Hall on UNB campus. The production runs Thursday, Friday and Saturday nights only, so don't miss it!

Podcast: Play in new window | Download
Subscribe: Android | Google Podcasts | RSS