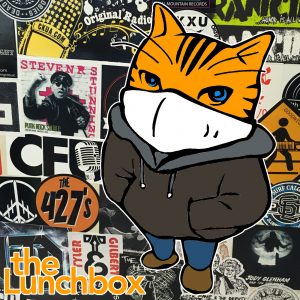 On Today's Show:
Remember that today is Global Accessibility Awareness Day! Find ways that you can come to appreciate the difficulties many face in interacting with the world, and how we can make the world better to help them.
It's also Rapture Party Day, which seems strange, given that we are celebrating the start of the world (aka summer) rather than the end..
Remember that while the sun is nice, it can hurt! Tomorrow is Don't Fry Day, so find your sunblock today to be ready.
Tomorrow is also a combination of Sherlock Holmes Day and Goth Day. These need to be combined, somehow..
Remember to join in on the weekly Free Stitch 'n' Bitch Online Drop-in Gathering brought to you by The Ville. Every Friday morning at 10am.
Every Thursday night, check out the Roots and Soul Artist Takeover on Facebook from 7pm until 10pm. Tonight, it's jessii the artist, Benny Von and Simon Henley.
It's Phoenix Trivia Night at 8pm tonight. Free to play!
I found the interview from 2015 where I spoke to Jean-Marc Simard about local blueberry picking. Consider it inspiration for yesterday's Pick Strawberries Day — or the summer in general.
We also revisit a chat with Colour Film, who was on tour in New Brunswick in 2016.
Positive Songs For Pandemics by Lainie B (of Monday night's B Street) features the track Keep A Light On by Jenn Grant. Enjoy!
A Bondo Pick from 2019: Foreign Diplomats with Charger.
I selected If All Is Lost from the Sunnyside Uppers off of Postponed: The Mixtape.
COVID-19 Update:
The province can expect to enter its third phase of recovery on Friday. This would mean hair salons, barbers, massage therapists and other close contact businesses would be allowed to reopen. 

The provincial borders will remain closed for the time being. 

The City of Fredericton will be flushing out its water pipes starting next week and continuing until July. 

New Brunswick drivers can now renew their licence online after Service New Brunswick received multiple calls asking how to renew during COVID-19. 

Prime Minister Trudeau unveiled details on a new rent deferral program for small business owners and landlords.

And Dr. Theresa Tam said wearing non-medical face masks is now "highly recommended" when people cannot keep a safe distance apart.

Podcast: Play in new window | Download
Subscribe: Google Podcasts | RSS