You're probably wondering what happened to today's show. A power outage caused some technical issues, and by the time I realized it wasn't working, time had marched on. Also, since I'm spending the entire weekend and part of Monday attending an online geek convention, I won't have time to play a new show on Monday. This show will repeat on Monday, but with an update COVID-19 update.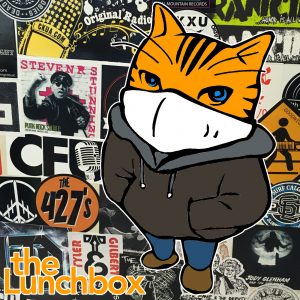 On today's show:
Just a reminder: find a creative way to combine Sherlock Holmes Day and Goth Day to amaze and confuse your neighbours!
On Saturday, discuss how things are made for World Product Day while listening to great music that shaped the whole record on Title Track Day.
And on Monday, celebrate your inner (and outer!) nerd with Towel Day and Geek Pride Day!
On this day in 1851, the birth of the one of the brothers Ganong gave way to a sweet empire 22 years later. Meanwhile, this land was told, "You lot! Go make a country!" by the Queen of England.
The Cap will be open as a boutique record store and as a patio. Maintain good social distancing, celebrate with friends, and get great music! If you still don't or can't go in person, visit their online store.
The UNB Art Centre is presenting a new exhibit of artwork from the Permanent Collection each week, opening Friday, May 29. Called Revelations, it seeks to put on display elements from the 2300-strong "working" collection, especially elements which aren't seen that often. Every Friday at 5:00 pm ADT beginning May 29 through June 26, you are invited to enter the UNB Art Centre Online and explore the East and West Galleries and see the latest release. You are also invited to their Facebook LIVE event where they will speak with some of the artists who produced these works.
Today, since I'm having a geeky weekend with a virtual scifi convention, I thought I'd share an interview with Chris Ryder from Animaritime before the convention in 2016. (Sorry, but this year's convention is still postponed to next year.)
We bring another Bondo Pick with Distance Dealer from Fly Pan Am. I chose the title track from Quote The Raven's Golden Hour to celebrate this weekend's Title Track Day, and paired the celebratory Morning Glow from Stephen Lewis for the interview.
COVID-19 Update:
The province unveiled one new case of COVID-19 yesterday afternoon, but there are no new cases as of this morning.
The individual is under the age of 19 and lives in the Campbellton area.
New Brunswick has officially entered into Phase Three of recovery.
This means that businesses such as hair salons, churches and non-regulated health services can continue.
Residents can include close family and friends in their "bubbles" starting today.
Premier Blaine Higgs said indoor gatherings like small house parties should be limited to ten people or less. Public gatherings of 50 people or less are also allowed.
Prime Minister Trudeau announced yesterday Ottawa is investing $75 million to support indigenous people living off-reserve during COVID-19.

Podcast: Play in new window | Download
Subscribe: Google Podcasts | RSS