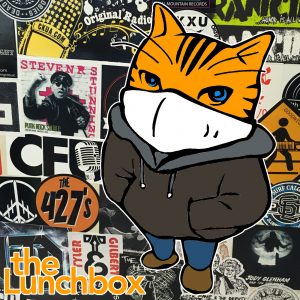 On today's show:
While I didn't quite have time to tell you, today is Sunscreen Day, which should actually be pretty obvious.. It's also Senior Health & Fitness Day, so take your grandparents (or your grandkids!) for a walk.
Tomorrow is Hamburger Day and also Brisket Day, so hit the grocery store today and get stocked up!
Are you looking forward to "Fredericton Al Fresco"? Not only will it be a place for us to gather and have food, but the City is also looking for artists to create some "temporary" installation art to spruce up the place. Proposals should be in before midnight on June 12. See the City's page for more details on the program.
Tonight's Digital Tertulia is Carolyn MacDonald on "Virgil and Latin Literature After the Fall of the Roman Republic". Connect at 7pm tonight online. See the event on Facebook or check out our calendar for connection information.
This Sunday's Living Rooms Concert is a special one, featuring artists who would have been performing this weekend for the Living Roots Music Festival:5:30 PM Alex Leggett
6:15 PM Kendra Gale Music
7:00 PM Rory Taillon
7:45 PM Brian Cathcart of Pretty Archie
No music today, but I decided to dive into some interviews about campus theatre. Robin Whittaker and Bella joined me in 2018 to talk about Theatre St Thomas' production of A Life of Galileo. Len Falkenstein, Brittany Lon and Jesse Roy joined me in 2016 to talk about Theatre UNB's production of Age of Arousal.
While there are no longer daily COVID-19 press conferences from the NB government to cover, our superstar news reporter Aaron Sousa has switched to providing you with a hit of more general news every weekday!
News today:
New Brunswick public health reported one new case of COVID-19 yesterday afternoon. The new case is over the age of 90 in Campbellton's zone five region.
The announcement brings the province's total cases to 122 with two active cases.
The University of New Brunswick announced yesterday morning it would remove George Duncan Ludlow's name from the Faculty of Law building.
A 20-year-old man and 21-year-old woman have been charged in connection with the killing 31-year-old Clark Ernest Greene last month.
The department of education is providing school districts with guidelines for graduation ceremonies for provincial high schools.
New Brunswick could be getting up to date 911 services as early as March of next year.
The premier of Prince Edward Island said he might start to allow travel to and from the island in the coming months.
The Financial and Consumer Services Commission is warning residents to watch out for unsolicited offers related to COVID-19

Podcast: Play in new window | Download
Subscribe: Google Podcasts | RSS