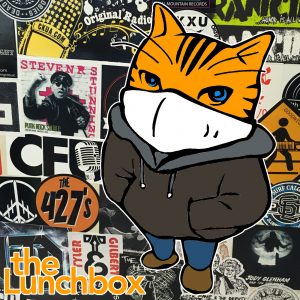 On today's show:
I ran out of time to tell you, but today is Women in Engineering Day, Public Service Day and Let It Go Day. So clearly, it means it's time to leave your old prejudices behind, celebrate and support girls who want to go into engineering, and to remember that the people in public service are people trying to do their best in a time when none of us is really sure about what that is.
I revisited a very old interview and a relatively new album. I brought out my 2013 interview with Jessica Rhaye on the occasion of her then-new release Far Gone Lullabies, and paired it with tracks from the current release, her album with The Ramshackle Parade covering Bob Dylan songs called Just Like A Woman: Songs of Bob Dylan. We heard One More Cup Of Coffee and Ring Them Bells.
We also heard my visit with Beth Bird & Dustin Forbes, who were working together to create shadow puppet theatre in the Barracks last summer. Seems like ages ago, but I'm looking forward to visiting artists in residence again — next summer.
Transit will grow again in Fredericton, Saint John and Moncton, but masks will be required
The transit systems in these three cities have come together to create a unified operational plan to allow more passengers to take the bus during the continuance of the pandemic. To ensure safety, they are going to have a few rules in place, however:

Masks will be required, with exceptions for children under 2 and those with medical conditions that exempt them (as per the recommendations of the Chief Medical Officer of Health of NB).
Seating will be increased, but limited to no more than 50% capacity. Social distancing will be necessary, so spacing will be indicated.
Seats directly behind the driver remain off-limits. The driver needs to be protected, because they have the largest possible exposure time.
Mask use will be monitored. So long as we all play along, they can grow more service over time.
Passengers are encouraged to bring and use hand sanitizer.
News:
New Brunswick Public Health reported no new cases of COVID-19 yesterday afternoon.

It will be the luck of the draw for New Brunswickers wanting to access a popular spot for salmon fishing this summer.

The Department of Natural Resources closed all crown land across the province on Friday after extremely dry weather conditions.

The COVID-19 pandemic is not stopping the City of Fredericton from hosting summer recreation activities.

The Codiac RCMP is asking for the public's help in locating a missing boy from Moncton.

Ottawa has signed an agreement with 15 indigenous communities across Atlantic Canada today to transfer water and wastewater services to the AFNWA.

And Prime Minister Justin Trudeau issued a statement this morning on National Day of Remembrance for Victims of Terrorism.

Podcast: Play in new window | Download
Subscribe: Google Podcasts | RSS