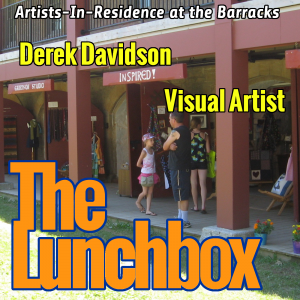 Art is the ultimate expression of "the sum is greater than its parts", as complex, evocative images can be made from seemingly simple squiggles and dabs of colour.
During the summer, the Fredericton Arts Alliance brings a pair of artists together in the Barracks to practice their art for all to see. These artists come from a wide variety of disciplines, from painting and sculpture to basket-weaving and writing. As each pair of artists comes in, we'll be talking to them on the Lunchbox.
My guest today is Derek Davidson, a visual artist working with combinations of ink drawing, watercolour painting and acrylic painting to capture real moments in time. Derek is spending his time in the casemates translating works from smaller sketches on paper to larger canvases and continuing to interpret the world's movement and colour.

Podcast: Play in new window | Download
Subscribe: Android | Google Podcasts | RSS