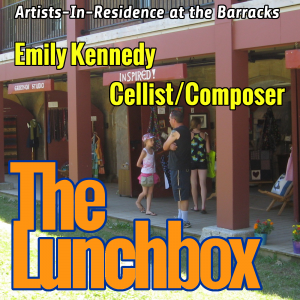 Music is the translation of ideas into sound, a sampling of higher-dimensional magic.
During the summer, the Fredericton Arts Alliance brings a pair of artists together in the Barracks to practice their art for all to see. These artists come from a wide variety of disciplines, from painting and sculpture to basket-weaving and writing. As each pair of artists comes in, we'll be talking to them on the Lunchbox.
My guest today is Emily Kennedy, a cellist and composer interested in modern styles of music as well as classical. She's worked with orchestras and smaller groups, as well as with Property// and Cellarghost. She's working in the casemates for a couple of weeks to produce numerous compositions, in particular the transformation of statistical data regarding the recent water flooding in Fredericton into an audible piece of impacting art.

Podcast: Play in new window | Download
Subscribe: Android | Google Podcasts | RSS