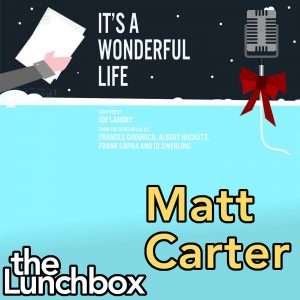 Sometimes, a nostalgic look at the past reminds you of the bounties of the present, and that just because it's old, it's still relevant.
My guest today is Matt Carter, one of this city's hard-working cheerleaders. Along with continuing to post interviews and reviews of cultural events on GridCity Magazine, he works as the Director of Development and Communications with TNB. He also partnered up with Eric Hill (local musician, and of Backstreet Records) to propose an art project about seeing the overlooked elements of Fredericton. He joins me to talk about all of this, and TNB's upcoming live-on-stage version of the radio play of the classic Christmas movie, "It's A Wonderful Life".
TNB will be staging "It's A Wonderful Life" at the Playhouse in Fredericton from December 12 – 14, before hitting the road to several communities in New Brunswick.

Podcast: Play in new window | Download
Subscribe: Android | Google Podcasts | RSS