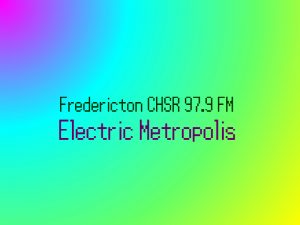 I am AD Springer, your musical tour guide to all things future funk, chiptune, synthpop, and other reach out and grab you music in the electronica sphere on The Electric Metropolis. Come tour the city of sound with me from around the world! On this tour you will delve deeper into the urban centre with songs that evoke the feel of the shadowy corners of the city, with the neon lights just catching the alleyway exits. But don't worry, I'll be sure to see you through to the end.
Featuring songs from Night Tempo's album Fantasy; Scythe's Cityscape; and Captain III's TWIN and many others! This is the sort of music that will give you the echoes of streets of a city yet to be but coming soon all the same. So keep your head up, your ears open, and come with me.
Sometimes the music of The Electric Metropolis, especially later at night, will have some rougher language then you might be used to; just to give you the fair warning my fellow tourists.  Then again, be sure to check your assumptions at the first stop, because The Electric Metropolis always has a surprise around almost every corner.
Tour Itinerary:
First Stop:
"Been Here Before" by Halley Labs Associates off the compilation album B-SIDE U 2017 Vol.1 as put out by HALLEY LABS
"Hg" by Elephant Skeletons off the album The Traveller Pt.1
Future Funk District:
"Suki? Suki!" by Night Tempo off the album Fantasy
"Secret Name" by AA Wallace off the album In Alpha Zones
"Yumi Rose – Memory Lane 2.0 (LemKuuja Version)" by LemKuuja off the album Transistor as put out by businesscasual
Chiptune District:
"Axis" by Danimal Cannon off the album Lunaria as put out by ubiktune
"Grand Theft 77" by National Broadcast Network off the album 7 Billion Volts
"Reflection" by Scythe off the album Chipscape as put out by Cheapbeats
Singer's Square:
"Shadow Kids" by Ivory Hours off the album Dreamworld
"She Shines" by Darren Korb off the Transistor Original Soundtrack
"Lifebeat of Lilim" by Garoad off the VA-11 HALL-A EX Bonus Tracks Collection
Hiphop Corner:
"Back At It (w- Lotus Cloud, ft- Le Real)" by Macross 82-99 off the album Idol, Sakura
"Backbone" by Captain III off the album TWIN
Final Stop:
"Sleep" by Property// off the album Spirals
Got any suggestions for future tours?
Tweet me @ElectricMetCHSR
or
Email me electricmetropolis [at] gmail [dot] com

Podcast: Play in new window | Download
Subscribe: Google Podcasts | RSS