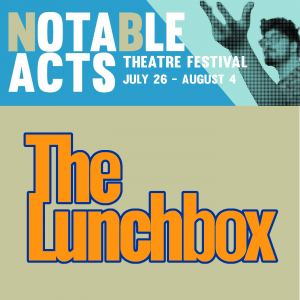 Theatre is the translation of the real world into an imaginary world, and then transforming the imaginary into a shared hallucination on a stage.
My guests today are Kat Hall, Greg Everett and Len Falkenstein, all people responsible for elements of the 17th Annual Notable Acts Theatre Festival. Kat has joined the Notable Acts Board of Directors, as well as being a Director and an actor in this year's plays. Greg has written one of the one-act plays in this year's festival, and Len — besides maintaining his role as "Grand Poobah of Theatre", is taking a position on the stage this year, acting in the mainstage performance. We chat about the bigger picture of the theatre festival that most might not see, the path from writing to drama to stage, and the multiple ways of engagement that each member of the company has.
The 17th Annual Notable Acts Theatre Festival opens with the mainstage performances of the horror/comedy "The Dangers of Geothermal Heating" at the Playhouse on July 26, and continues through to August 4 in various locations around the town.

Podcast: Play in new window | Download
Subscribe: Android | Google Podcasts | RSS